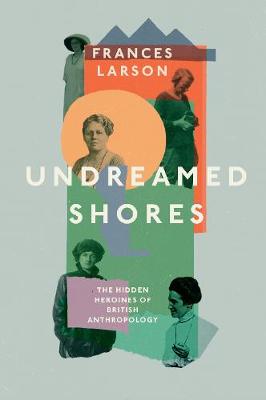 Undreamed Shores
Frances Larson
Category: Biographies & Memoirs: General
ISBN: 1-78378-332-X EAN: 978-1-78378-332-8 Format: HB Pages: 337 Publisher: Granta Year: 2021 Quantity in Stock: 128
Cover price: £20 Sale Price:

£6.99
In the first decades of the 20th century, five women arrived at Oxford to take the newly created Masters diploma in Anthropology. Though their circumstances differed radically, all five were intent on travelling to the furthest corners of the globe and studying remote communities whose lives were a world away from their own. In the wastelands of Siberia; in the pueblos and villages of the Nile and New Mexico; in the midst of a rebellion on Easter Island; and in the uncharted interiors of New Guinea, they found new freedoms. They documented customs now long since forgotten, and bore witness to now-vanished worlds. Through their work they overturned some of the most pernicious myths that dogged their gender, and proved that women could be explorers and scientists, too. Yet when they returned to England they found loss, madness, and regret waiting for them. Following the lives of her subjects through women's suffrage, two world wars and on into the second half of the 20th century, Larson's masterful biography is a revelatory portrait of a pioneering quintet, one whose contribution has for too long been left uncelebrated.
Ask a question about this book: