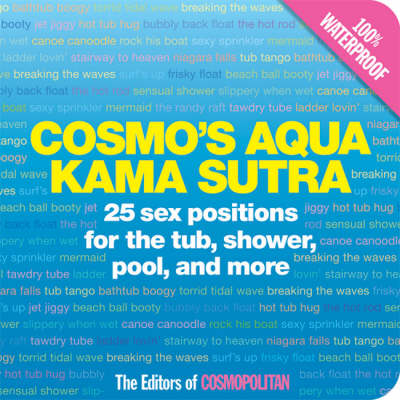 Cosmo's aqua Kama Sutra
Cosmopolitan
Category: Fiction: Adult
ISBN: 1-58816-571-X EAN: 978-1-58816-571-8 Format: Paperback Pages: 63 Publisher: Hearst Books Year: 2006 Quantity in Stock: 22
Cover price: £6.99 Sale Price:

£2.99
This spring, Cosmo will make another big splash with the follow-up to the blockbuster bestseller The Cosmo Kama Sutra! With 100% waterproof pages and 25 wet-n-wild passion poses, this get-it-on guide is what every couple needs to make their slippery sexcapades extra steamy. Cover your rubber ducky's eyes! Cosmopolitan is back with The Cosmo Aqua Kama Sutra. These 25 passion poses, from the ?Tub Tango" to the ?The Deep Water Dare," have been specially designed to make every couple's wanton water adventure a success. Just like its pulse-racing predecessor, Cosmo's newest carnal companion is packed with colorful illustrations, detailed instructions and tips to intensify every erotic moment. Plus, there are ?Lust Lessons" throughout to answer readers' most burning booty questions, including a primer that covers everything they need to know about sex in the water to a lusty list of aquatic accoutrements. And here's the bonus: the pages are waterproof, so daring duos can take this book into the pool, hot tub, shower, sea, or wherever the tawdry tides take them. So pick up a copy of The Cosmo Aqua Sutra and discover a whole new meaning to the H2Ohhhh!
Ask a question about this book: