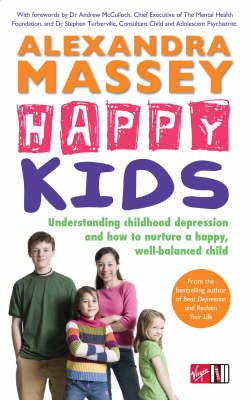 Happy Kids
Alexandra Massey
Category: Leisure: Health & Beauty
ISBN: 0-7535-1261-0 EAN: 978-0-7535-1261-6 Format: Paperback Pages: 214 Publisher: Virgin Books Year: 2007 Quantity in Stock: 207
Cover price: £10.99 Sale Price:

£1.99
Depression in children is growing at such a rate that it is now recognised as a major health problem, both in the UK and internationally. This book, by the bestselling author of Beat Depression and Reclaim Your Life, will help deal with this problem in a friendly and practical way. With clear explanations of what depression is and how kids get depressed, along with practical advice on managing the symptoms and nurturing the child, this book will offer hope to all parents whose children are struggling with this increasingly common condition. The book includes chapters on: What is depression? Managing the symptoms Nurturing the child Building a team around the child The importance of Family Alexandra Massey uses her expert knowledge and her own experience of childhood depression (both her own and that of her child) to offer positive help and support to parents.
Ask a question about this book: