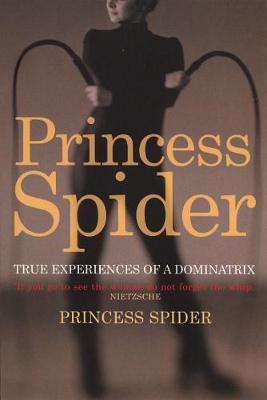 Princess Spider
Princess Spider
Category: Fiction: Adult
ISBN: 0-7535-1039-1 EAN: 978-0-7535-1039-1 Format: Paperback Pages: 202 Publisher: Virgin Books Year: 2006 Quantity in Stock: 236
Cover price: £7.99 Sale Price:

£2.99
Secret dungeons, private parties, five-star hotels, or suburban homes: the locations may change. Spike heels and second skins of leather, or court shoes and designer dresses: the outfits may vary. Cruel mistress, office manager, or auntie: the roles may differ. But one thing always remains the same: her complete mastery and her partner's submission. A celebrated female dominant reveals extraordinary true stories from her private and public domination of both men and women, and explores the secrets, the mystery, and the strange power of female domination that lures her slaves back time and time again. Princess Spider takes a tour of the role-playing, dress codes, rituals, equipment, playrooms, and dungeons of this bizarre sexual underground, and into the minds of the sexually submissive via unprecedented access to body slaves and their diaries. Spider's bizarre web of female domination never fails to fascinate or shock, and, ultimately, it arouses more than mere curiosity.
Ask a question about this book: