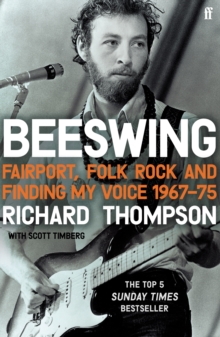 Beeswing
Richard Thompson with Scott Timberg
Category: Art & Media: Music
ISBN: 0-571-37698-3 EAN: 978-0-571-37698-8 Format: Paperback Pages: 290 Publisher: Faber Year: 2021 Quantity in Stock: 151
Cover price: £9.99 Sale Price:

£3.99
The memoir of international music icon Richard Thompson, co-founder of the legendary folk rock group Fairport Convention. Richard Thompson came of age during an extraordinary moment in 1960s Britain – as music began to reflect a great cultural awakening, the guitarist and songwriter co-founded Fairport Convention, ushering in the era of folk rock. An intimate memoir of personal discovery and creative intensity, Beeswing vividly captures the life of an international music icon in a world on the cusp of change.
Ask a question about this book: