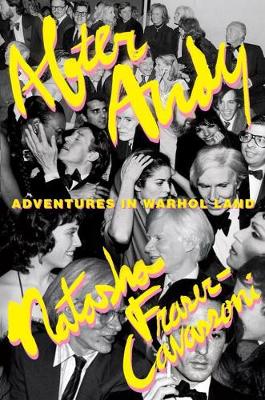 After Andy: Adventures in Warhol Land
Natasha Fraser-Cavassoni
Category: Biographies & Memoirs: General
ISBN: 0-399-18353-1 EAN: 978-0-399-18353-9 Pages: 322 Publisher: Penguin Year: 2017 Quantity in Stock: 169
Cover price: £23.99 Sale Price:

£6.99
A precocious, rambunctious adolescent, Fraser-Cavassoni grew in just a matter of a few teenage years from a punk-rock-loving convent schoolgirl to party-girl socialite to becoming linked in the tabloids to Mick Jagger. In her quest to find a place for herself in the world, Fraser-Cavassoni found herself meeting Andy Warhol on and off over the years before landing in New York City at Andy Warhol Enterprises, or as she calls it, 'Adventures in Warhol Land.' In her breezy, witty, self-deprecating prose, Fraser-Cavassoni takes the reader deep into the pop artist's world...as well as miles into the stratosphere of the socialites, movie stars, royal figures, and downtown NYC artists who could be found in Warhol's orbit...working and partying closely with Fred Hughes, Ed Hayes, Brigid Berlin, Vincent Fremont, and many others who were part of the Factory clan. .
Ask a question about this book: