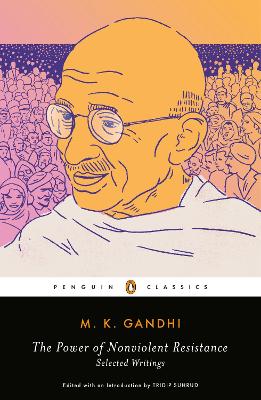 The Power of Nonviolent Resistance
M. K. Gandhi
Category: General Non Fiction: Politics/Current Affairs
ISBN: 0-14-313415-9 EAN: 978-0-14-313415-2 Format: PB Pages: 326 Publisher: Penguin Year: 2019 Quantity in Stock: 266
Cover price: £14.99 Sale Price:

£3.99
In time for the one hundred and fiftieth anniversary of his birth, a specially curated collection of Mahatma Gandhi's writings on nonviolent resistance and activism. A Penguin Classic The year 2019 marks the 150th anniversary of Mohandas Karamchand (Mahatma) Gandhi's birth, and Penguin Classics presents a short but comprehensive selection of text by Gandhi that speaks to non-violent civil disobedience and activism. In excerpts drawn from his books, letters, and essays--including from Hind Swaraj, Satyagraha in South Africa, Yeravda Mandir, Ashram Observances in Action, his readings of Thoreau and Tolstoy, and his essays on the life of Socrates--the reader observes the power and eloquence in which Gandhi expressed his views on non-violent resistance, which have inspired activists from the U.S. Civil Rights movement and around the world. The Power of Nonviolent Resistance includes a new introduction and suggestions for further exploration by renowned Gandhi scholar Tridip Suhrud, which gives context to the time of Gandhi's writings while placing them firmly into the present-day political climate, inspiring a new generation of activists to follow the civil rights hero's teachings and practices.
Ask a question about this book: